Advanced Collaboration is about taking our everyday work and interpersonal dealings, along with our desire for connectivity, and thoughtfully pairing them in order to improve all interactions. This can be orchestrated in many forms and formats, but the workplace collaboration technique du jour is: Speed Networking. You may immediately be thinking, Speed Dating, and with good reason as the concept is inherently the same. The format, under the guise of a meeting, is designed to entice and allow for quick, targeted networking interactions that ideally lead to accelerated connections between business contacts.
"You never get a second chance to make a good first impression" --Oscar Wilde
The Set-up
The orchestration of Speed Networking is almost always the same....People standing in two lines, with business cards, ideas for discussion and materials to capture quick conversations at the ready. A moderator, designated with defining the guidelines for the session and most importantly, time-keeping, is somewhere prominent in the space.
So, at a few recent Speed Networking events, I decided to change things up a bit. Influenced by tried and true design thinking principles, I, along with my colleagues, tested a few different ways to participate:
Bring a pad of paper and take really BIG notes about what the other person is saying to you. Try it. The reactions are amazing. The recipient will go into more detail, or correct your 'understanding' of what they are doing.

As participants walk into a room, have them select 3 images from a scattering of beautiful and frightful images (see

Foster Photography

for how to do this exercise) allow these to initiate the conversation visually and observe the reactions.

Change the typical two line set-up to have participants line-up in circles or squares and prompt the conversation with one of five pre-set questions to inspire deeper dialogue.

Print 'the world's biggest' name tag in order to insight memory triggers (see

Name Badges

for more details)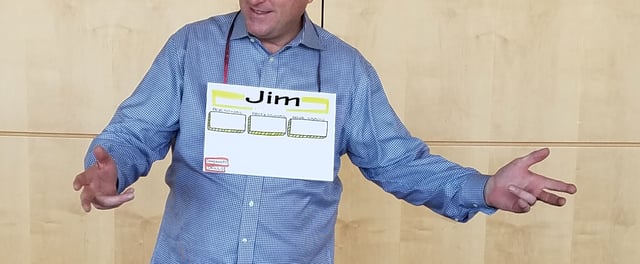 The Usual Results
While these twists produced some more interesting conversations in our allotted time slots, the result was more mild amusement then depth of connectivity. So, as a data-dork, I started tracking my results from these speed networking sessions. Inputting who I met, how many quick conversations were relevant to the objective or project I was working on vs. who I really needed to connect with (based on researching them after the session), who I followed up with and who sought out additional conversations with me post-event. While there were definitely a few great moments, such as speed chatting with Salman Khan from the Khan academy, the reality was that speed networking was doing little to enhance my critical connections and grow my network. Researach shows that there are only 4% of people in the room who can 'measureably' help you acheive your objective...it became quickly apparent that I was rarely able to connect with my 4%.
Why? Well, the reality is that our brains aren't able to process enough about the person in front of us to truly benefit from the introduction. We become so focused on the getting-to-know-you topic conversation starter, that the odds are incredibly high that we're missing a critical opportunity to connect on knowledge that can be life changing (for perspective, a successful networking connection led me to the forward-thinking doctor that is helping with my son's life-threatening food allergies.)
So, how do we take something that we know to be enjoyable and successful at quickly introducing a lot of people, and leverage it's benefits to consistently create impactful networking opportunities?
Advanced Collaboration Recommendations Yield Useful Results
Yes, you guessed it, by integrating data and making a few other tweaks to the speed networking event design, we can ensure successful networking is the main output of your session.
Let's get started - first consider these 3 inputs:
Why are your participant's speed networking? To have fun? To make more connections? To learn something? As a team building exercise? To make key decisions? To uncover inputs for an organizational problem? We always forget to ask, why is critical for informing successful networking.
How would you like them to connect? Does everyone really need to meet everyone else? How much time do you need to allow peole to talk to achieve the 'why' before it gets uncomfortable? (Hint: longer is almost always better)
What kind of follow up is needed to meet participant objectives (as well as your own)? Do you need to provide follow-up time later?
Then, determine:
Whether you have a group of 20 or 200, data along with some thoughtful design thinking, can help turn any basic speed networking session into a successful, long-term relationship building endeavor.
Let's create impactful networks - sign up for our monthly newsletter to receive advanced collaboration tips and trials in your inbox: