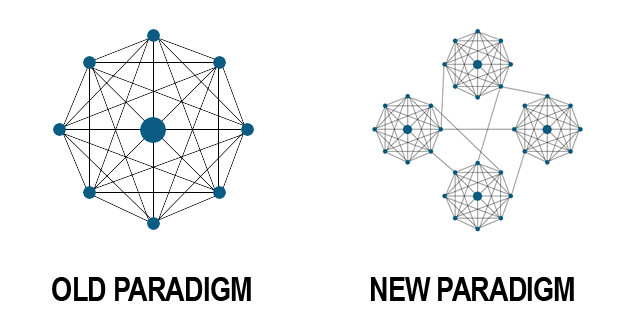 A basic pattern of network science is clustering. People tend to gravitate to clusters for a lot of reasons whether it be working in the same company or industry, living in a neighborhood, or going to the same school. These clusters get stronger as people gain mutual friendships, establish norms, and build reputations.
This clustering tendency has two consequences:
Information Travels Quickly And Repeatedly Within A Group. Information travels more quickly and you hear the same information repeatedly within any group. In Burt's words, "People tire of repeating arguments and stories explaining why they believe and behave the way they do and develop shorthand symbols and even dialects. Knowledge becomes unwritten but mutually understood."
Information Doesn't Travel Between Groups. As a result of groups using shorthand, it is hard for individuals from other groups to understand the full value and relevance of what is being said. In other words, information becomes 'sticky' and does not easily move from one group to another if at all. Translation is required for the 'dialect' of one group to be understood by another group.