Original image by erin_malone
Inspiring a better way to work isn't just a euphemism for 'work harder' or 'collaborate better' or 'be social this way'. It is intended as simply place where people can share ideas, examples, exercises for a better work environment, that is infinitely (hopefully) more collaborative.
An important way to achieve this is through technology... using less of it, well using less of it in the traditional sense. More technology in the cloud means less in your hands and more importantly less than you have to think about. Social CRM is part of the collaborative solution...
Social CRM is not a platform or a technology—it represents a cultural phenomenon that organizations must embrace if they are to leverage social media within their CRM processes. When social media is integrated properly within multiple layers of your organization (and not only with your CRM system), it enables fluid conversation between your brand and your customer. This conversation fosters greater transparency and helps a business gain trust of its customers and is therefore mutually beneficial. This re-imagining of the customer-centric ecosystem reinforces the fact that increasingly the customer is in control. Indeed, this ecosystem can be beneficial to the business as well, with the proviso that the business is able to leverage the collective intelligence of its customer base and build trust and intimacy with its prospects even before they become its customers. This public ecosystem can be harnessed to deepen relationships with existing clients and prospects and to provide thought leadership in an increasingly competitive marketplace. This social interaction, however, has more to do with the transparency and intimacy that your business has developed with your customers and less to do with your CRM.
The Social CRM process therefore can be broken down into the following steps. Your employees:
collect user feedback from the social community;
enrich the organization's CRM system with the information collected, expanding user profiles of specific customers;
determine what actionable insights can be drawn from the new information that has come to light for specific customers (leading to micro response) and larger customer pool with similar needs (leading to macro response);
respond to not only to the specific customers impacted or being proactively targeted, but to the entire community with feedback and solutions.
What is the Significance of "Social" in Social CRM?
With all the hype surrounding social media, there is a great deal of confusion about the intent and the meaning of Social CRM. The term gets used without understanding or emphasizing that CRM is still driven primarily by technology. Social is not an adjective that modifies the noun CRM. Instead, "social" complements CRM technology and is better written as "Social + CRM". This is the context of Paul Greenberg's controversial comment:
In my response to Bob Thompson's superb discussion on the Altimeter Group's Social CRM Pioneers Google Group, "Does Social CRM Need Social Media", I said emphatically no.
He goes on to explain that "social media is not the only technology involved in a Social CRM implementation." He is right to consider the continued importance of operational and transactional technologies such as a customer record. Customer transactional data and analytics that provide insight into customers and how your employees relate to your customers cannot be supplanted by the hegemony of the social media discourse. The transaction history is just as important as before and so are analytics because they can enable an organization to identify future trends. Your customer's social interactions can never replace the need to record customer transactions.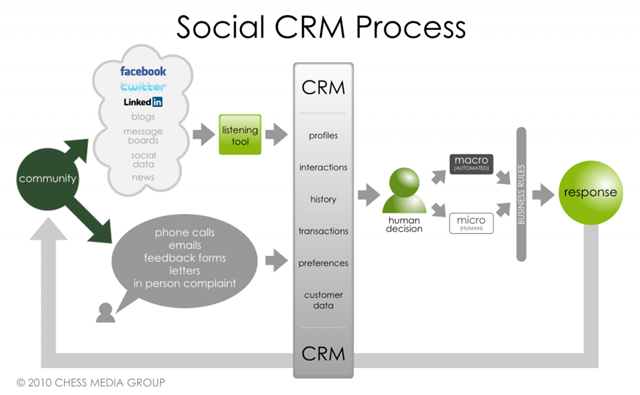 Contesting the Death of Traditional CRM
Cisco has spent a great deal of time and money to make all of this a reality. In fact, they have gone so far as creating a whole architecture for this 'new' type of collaboration.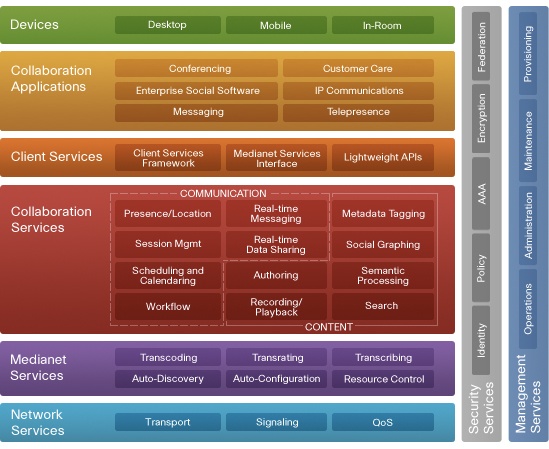 Read about Cisco's Collaboration Architecture